Red Dwarf (1988-Present)
It's cold outside, there's no kind of atmosphere,
I'm all alone, more or less,
Let me fly, far away from here,
Fun, fun, fun, in the sun, sun, sun…
I want to lie shipwrecked and comatose,
Drinking fresh mango juice,
Goldfish shoals, nibbling at my toes,
Fun, fun, fun, in the sun, sun, sun…
Fun, fun, fun, in the sun, sun, sun…
Red Dwarf is a British science fiction comedy franchise which primarily consists of a television sitcom that aired on BBC Two between 1988 and 1999, and on Dave since 2009, gaining a cult following.[1] To date, eleven full series of the show plus one "special" miniseries have aired. The latest series, dubbed Red Dwarf XII, started airing in October 2017.[2]
The series was created by Rob Grant and Doug Naylor. In addition to the television episodes, there are four novels, a radio version adapted from the audiobooks, two pilot episodes for an American version of the show, tie-in books, magazines, and other merchandise.
Despite the pastiche of science fiction used as a backdrop, Red Dwarf is primarily a character-driven comedy, with science fiction elements used as complementary plot devices. In the early episodes, a recurring source of comedy was the Odd Couple-style relationship between the two central characters of the show, who have an intense dislike for each other yet are trapped together deep in space.
The main characters are Dave Lister, the last known human alive, and Arnold Rimmer, a hologram of Lister's dead bunkmate. The other regular characters are Cat, a lifeform which evolved from the descendants of Lister's pregnant pet cat Frankenstein; Holly, Red Dwarf's computer (Series I-V, VIII and briefly in the final episodes of VII, XII); Kryten, a service mechanoid (Series II-present); and Kristine Kochanski, an alternative-reality version of Lister's long-lost love (Series VII-VIII).
One of the series' highest accolades came in 1994, when an episode from the sixth series, "Gunmen of the Apocalypse", won an International Emmy Award in the Popular Arts category, and in the same year the series was also awarded "Best BBC Comedy Series" at the British Comedy Awards.[3] The series attracted its highest ratings, of more than eight million viewers, during the eighth series in 1999.[4]
The revived series on digital channel Dave has consistently delivered some of the highest ratings for non-Public Service Broadcasting commissions in the UK.[5][6][7] The show has been critically acclaimed, and has a Metacritic score of 84/100.[8] Series XI was voted "Best Returning TV Sitcom" and "Comedy of the Year" for 2016 by readers for the British Comedy Guide.[9]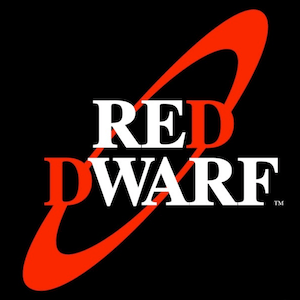 Red Dwarf Monsters
References