Sir Accolon of Gaul
"Betrayal, Love, and a Duel to the Death: The Tragic Tale of Sir Accolon in Arthurian Legends!"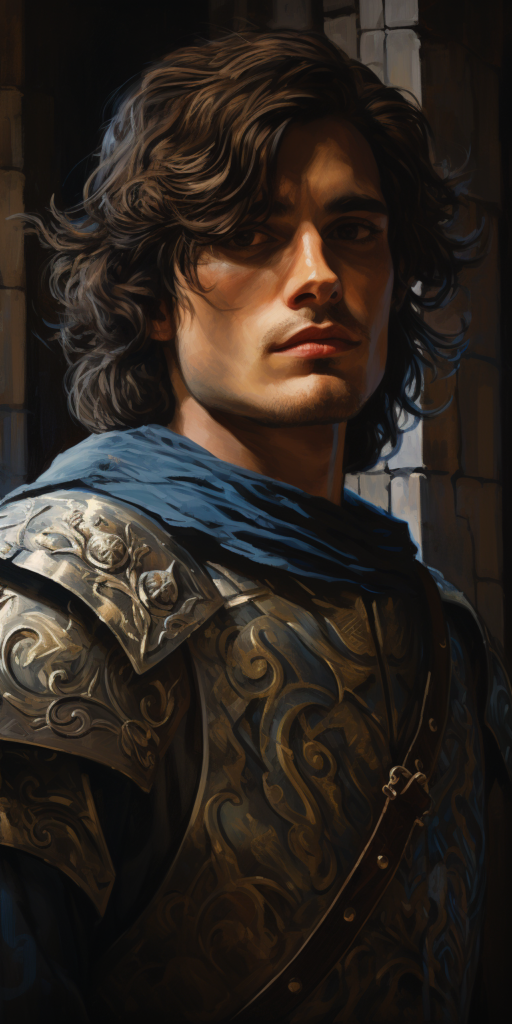 Alias: Sir Accolon of Gaul
Gender: Male
Race: Human
Occupation: Knight Errant
Religion: Celtic Pantheon
Allies: Morgan le Fay (former lover), King Arthur (before the betrayal)
Enemies: King Arthur (after the betrayal), enemies of King Arthur's court (such as Mordred)
Abode/Base of Operations: No specific permanent residence, traveled throughout the kingdom
Nationality: Gaulish (from Gaul)
Languages: Old English, (French) Gaulish dialects
Alignment: Lawful Good (prior to the influence of Morgan le Fay)
Affiliation(s): Arthurian court, Knights of the Round Table
Significant others: Morgan le Fay (former lover)
Sir Accolon is a knight in the realm of Arthurian legends, caught in the complex web of desire, betrayal, and destiny. As a noble warrior hailing from Gaul, he possesses remarkable skill with the sword and unwavering loyalty to his loved ones. Accolon's life takes a dramatic turn when he becomes entangled in a clandestine affair with the enchanting Morgan le Fay, the half-sister of King Arthur.
Driven by an insatiable love for Morgan, Accolon finds himself embroiled in a treacherous plot to seize power. Blinded by passion and manipulated by Morgan's cunning, he becomes a pawn in her grand scheme to overthrow her brother and place Accolon upon the throne. Fueled by his ambition and the belief that he can attain greatness with Morgan's aid, Accolon willingly follows her dark path, unaware of the consequences that lie ahead.
However, fate has a different plan for Sir Accolon. Through a series of enchantments orchestrated by Morgan, he is presented with the mythical sword Excalibur, believing it to be his key to victory. Little does he know that he will face King Arthur himself, unknowingly engaging in a fateful duel where neither recognizes the other. The clash between the two warriors is intense, with Accolon wielding the real Excalibur and gaining the upper hand.
Yet, amidst the chaos, truth prevails. Arthur realizes the deception and fights back fiercely, wielding a fake Excalibur given to him by Morgan. In the midst of their battle, the Lady of the Lake, Nimue, intervenes and reveals the truth to Arthur. Accolon's dream of power crumbles as Arthur reclaims the true Excalibur, and in a final struggle, deals a mortal wound to his misled friend.
Sir Accolon's journey ends tragically, leaving behind a legacy of misguided love and shattered dreams. Though driven by ambition and manipulated by the cunning Morgan le Fay, he ultimately pays the price for his choices. His story serves as a cautionary tale, reminding us of the dangers of unchecked desire and the consequences of straying from the path of honor and loyalty.
Sir Accolon of Gaul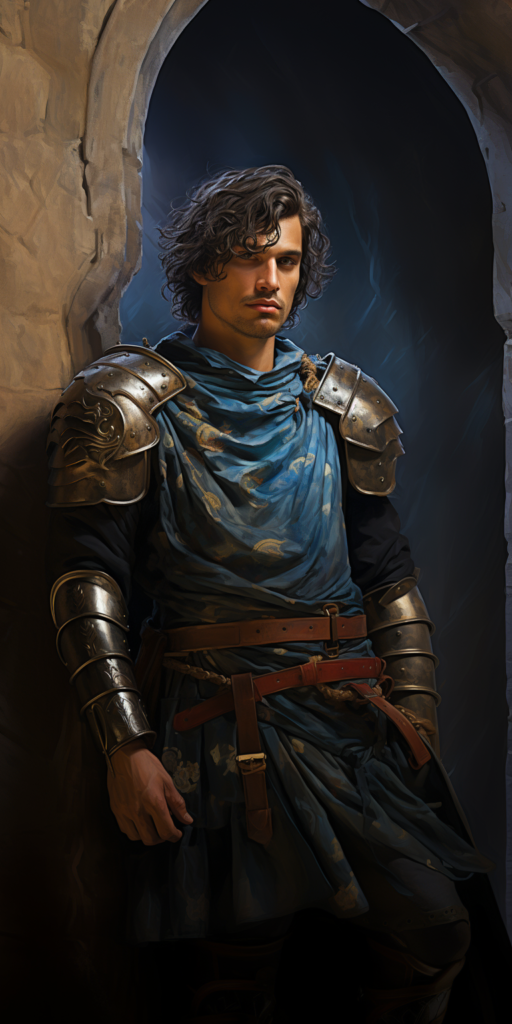 Medium humanoid (human), lawful good knight
Armor Class 18 (plate armor, shield) Hit Points 168 (24d8 + 48) Speed 30 ft.
| STR | DEX | CON | INT | WIS | CHA |
| --- | --- | --- | --- | --- | --- |
| 18 (+4) | 14 (+2) | 14 (+2) | 10 (+0) | 12 (+1) | 16 (+3) |
Saving Throws Str +8, Con +6 Skills Athletics +8, History +4, Insight +5, Perception +5 Senses Passive Perception 15 Languages Common, Gaulish Challenge 9 (5,000 XP)
Brave. Sir Accolon has advantage on saving throws against being frightened.
Actions Multiattack. Sir Accolon makes two melee attacks. Longsword. Melee Weapon Attack: +8 to hit, reach 5 ft., one target. Hit: 10 (1d8 + 6) slashing damage. Lance. Melee Weapon Attack: +8 to hit, reach 10 ft., one target. Hit: 12 (1d12 + 6) piercing damage.
Reactions Parry. Sir Accolon adds 3 to his AC against one melee attack that would hit him. To do so, he must see the attacker and be wielding a melee weapon.
Equipment Plate armor, shield, longsword, lance, horse with barding, noble's outfit, insignia of knighthood.
Magic Items Excalibur. A legendary sword of immense power, Excalibur is a +3 longsword that radiates a brilliant light. Sir Accolon is proficient with this weapon, and its magical properties enhance his attacks, dealing an additional 2d6 radiant damage on a hit. Furthermore, Excalibur grants Sir Accolon resistance to necrotic damage and the ability to cast the Divine Smite spell once per long rest.
Description Sir Accolon of Gaul stands tall and proud, his muscular frame clad in shining plate armor adorned with intricate engravings. He wields Excalibur, the legendary sword that radiates a brilliant light, symbolizing the might and righteousness of its wielder. His noble steed, wearing barding and bearing the insignia of knighthood, stands at his side, ready to charge into battle.
In his surroundings, Sir Accolon stands in a sacred grove, bathed in a warm, ethereal glow. The air is filled with a sense of awe and reverence, as if the very land recognizes the presence of a champion. Sir Accolon's mood is a mix of solemnity and determination, his unwavering faith in the sword and his cause guiding his every action.
With Excalibur in his hand, Sir Accolon carries the weight of his noble lineage and the responsibility to protect the innocent and uphold justice. His reputation as a valiant knight precedes him, and his name echoes throughout the realms as a symbol of unwavering courage and righteousness.
Plot Hooks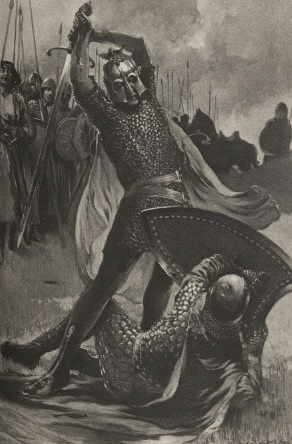 The Betrayal of Morgan le Fay: Sir Accolon's dark past intertwines with Morgan le Fay, the enchantress who once bewitched him and led him astray. The players must navigate the treacherous web of deceit and intrigue surrounding Morgan, unraveling her schemes and seeking redemption for Sir Accolon's troubled soul.
The Ghostly Whisper of Camelot: Sir Accolon is haunted by visions and whispers from the spirit of King Arthur himself. These otherworldly messages guide him on a quest to fulfill a hidden mission, and the players are entrusted with deciphering the cryptic clues, uncovering long-lost secrets, and ultimately restoring the glory of Camelot.
The Forbidden Love Affair: Unbeknownst to many, Sir Accolon once shared a forbidden love affair with a lady of noble birth. Their star-crossed romance is now threatened by powerful forces seeking to keep them apart. The players become entangled in a complex web of political intrigue, risking everything to reunite the lovers and defy the societal norms that stand in their way.
The Legacy of the Sword: Sir Accolon bears the burden of carrying Excalibur's legacy, having once wielded the legendary blade in a fateful duel with King Arthur. Now, he embarks on a quest to uncover the true destiny of Excalibur, seeking ancient lore, facing mystical guardians, and ensuring that the sword's power is safeguarded from those who would misuse it.
The Trial of Honor: Sir Accolon's reputation as a paragon of chivalry and virtue is challenged when he is falsely accused of a heinous crime. The players must help him navigate a labyrinthine trial, gathering evidence, exposing the true culprits, and defending his honor against powerful adversaries who seek to tarnish his name and destroy his standing in the realm.
The Quest for the Holy Grail: Inspired by the tales of Arthurian legend, Sir Accolon leads the players on a noble quest for the Holy Grail, the sacred relic said to possess miraculous powers. Along the way, they encounter mythical creatures, solve riddles, and face moral trials, all in pursuit of the divine artifact that could bring hope and salvation to the realm.
The Sins of the Past: Sir Accolon is haunted by the ghosts of past mistakes and seeks absolution for his transgressions. The players are drawn into a journey of redemption, confronting the consequences of Sir Accolon's actions, seeking forgiveness from those he wronged, and ultimately finding a way to reconcile his troubled past with a brighter future.
The Champion's Rivalry: A skilled rival knight challenges Sir Accolon's position as one of the realm's greatest champions. The players become entangled in a heated rivalry, participating in grand tournaments, engaging in thrilling jousts, and proving Sir Accolon's prowess in a series of trials and battles that will determine the true champion of the realm.
The Curse of Excalibur: Excalibur, the legendary sword, carries a curse that threatens to consume its wielder. Sir Accolon, bound to the sword through his past encounter with King Arthur, seeks a way to break the curse before it devours him completely. The players must assist him in unraveling the sword's dark magic, facing formidable challenges, and ultimately finding a path to liberation and redemption.
The Last Stand at Gaul: Sir Accolon's homeland of Gaul is under siege by a ruthless enemy. The players join him in a desperate battle to defend his people, utilizing their strategic skills, rallying troops, and fighting valiantly to turn the tide of war. The fate of Gaul rests on their shoulders as they face overwhelming odds and make sacrifices for the greater good.
Currently in the World
Sir Accolon of Gaul stands tall and proud, with a muscular build befitting a skilled knight. His noble visage is adorned with chiseled features, sharp jawline, and deep-set, piercing blue eyes that radiate determination. His dark hair, tinged with strands of gray, falls in waves to his broad shoulders, giving him an air of maturity and experience.
Clad in shining plate armor embellished with intricate engravings, Sir Accolon presents an imposing figure on the battlefield. He bears a regal shield emblazoned with the sigil of Gaul, representing his noble heritage, and wields a well-crafted longsword with a polished silver blade. The sword serves as a testament to his skill and dedication as a knight, its edge gleaming with the promise of justice and valor.
In his current surroundings, Sir Accolon finds himself amidst the remnants of a recent conflict. The battleground is strewn with the aftermath of a fierce skirmish, with broken weapons and fallen soldiers scattered across the field. The air is heavy with the scent of sweat and blood, and the sky above hangs ominously, as if echoing the gravity of the recent clash.
Despite the chaos around him, Sir Accolon remains composed and focused. His brow furrowed in determination, he surveys the scene, searching for any surviving allies or wounded comrades. His mood is a mix of somber resolve and a burning desire to protect and uphold the ideals of honor and chivalry. He carries himself with a sense of duty, ready to face any challenge that comes his way and fight for justice until his last breath.