Alberich (Andvari)
"Discover the Mysterious Secrets of Alberich, the Shapeshifting Dwarf with a Cursed Ring!"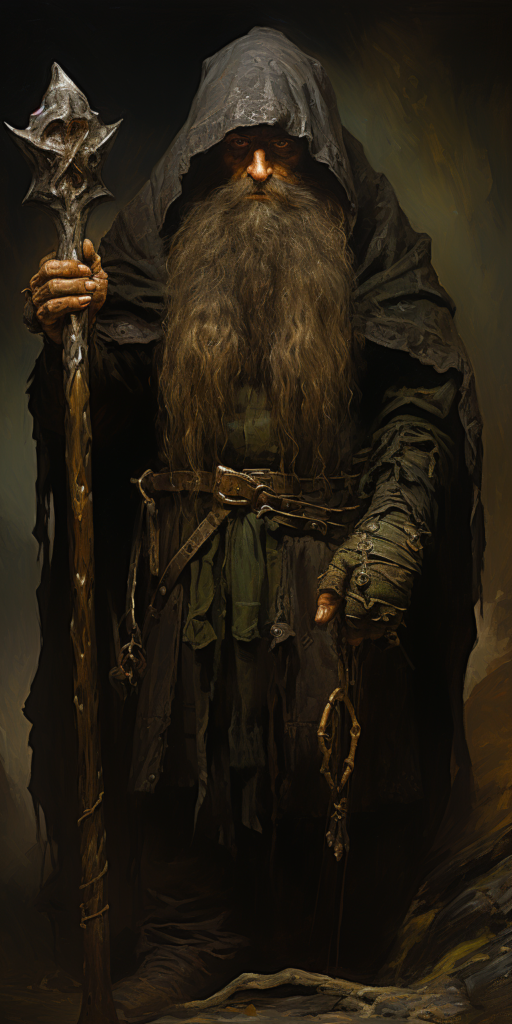 Alias: Andvari
Gender: Male
Race: Dwarf
Occupation: Guardian of his treasure, shapeshifter
Religion: Norse mythology
Allies: None specified
Enemies: Loki, those who seek his treasure
Abode/Base of operations: Beneath a mystical waterfall
Nationality: Norse
Languages: Old Norse
Alignment: Neutral Evil
Affiliation(s): N/A
Significant others: None specified
Alberich, also known as Andvari, is a fascinating character from Norse mythology. As a cunning and elusive dwarf, he dwells beneath a mystical waterfall and possesses the extraordinary ability to transform into a pike at will.
Alberich's story revolves around his possession of a powerful magical ring called Andvaranaut, which granted him great wealth and prosperity. With this ring, he amassed a vast treasure and reveled in his newfound riches. However, his fate takes a treacherous turn when the mischievous deity Loki manages to capture him in his pike form.
Forced to relinquish his gold and the coveted ring, Alberich is consumed by bitterness and curses the stolen treasure. He weaves a malevolent enchantment, ensuring that anyone who possesses the cursed gold will face destruction and ruin. The loss of his precious ring haunts him, and he longs to recover it, even though it seems forever lost.
Driven by his desire to reclaim what was taken from him, Alberich's motivations run deep. His quest to retrieve the Andvaranaut is fueled by a mix of vengeance and a longing to regain his former glory. Despite his diminutive stature, he possesses a formidable cunning and determination.
Throughout his journey, Alberich faces numerous challenges and encounters with other mythical beings. His shapeshifting abilities allow him to navigate the hidden realms and outwit his adversaries. Yet, the weight of his curse hangs heavily upon him, a constant reminder of the consequences of his actions.
Alberich's enigmatic nature and the allure of the elusive Andvaranaut captivate both the heroes and villains of Norse mythology. His story serves as a cautionary tale about the dangers of greed and the enduring power of curses. In the world of myths and legends, Alberich stands as a complex character, driven by his desire for retribution and the hope of reclaiming that which was once rightfully his.
Alberich (Andvari)
Medium humanoid (dwarf), neutral evil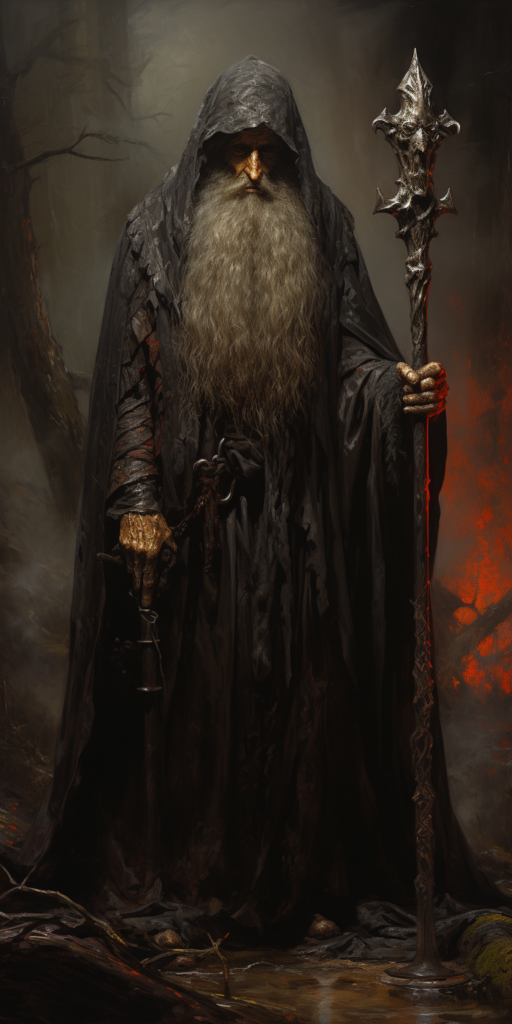 Armor Class 17 (natural armor) Hit Points 165 (20d8 + 80) Speed 25 ft.
| STR | DEX | CON | INT | WIS | CHA |
| --- | --- | --- | --- | --- | --- |
| 18 (+4) | 12 (+1) | 18 (+4) | 16 (+3) | 14 (+2) | 16 (+3) |
Saving Throws Str +8, Con +8, Wis +6 Skills Deception +7, Insight +6, Perception +6, Sleight of Hand +5 Damage Resistances poison Senses darkvision 60 ft., passive Perception 16 Languages Common, Dwarvish, Undercommon Challenge 10 (5,900 XP)
Innate Spellcasting. Alberich's innate spellcasting ability is Charisma (spell save DC 15). He can innately cast the following spells, requiring no material components:
At will: detect thoughts, disguise self, silent image 3/day each: charm person, suggestion 1/day: invisibility, major image
Actions
Multiattack. He makes two melee attacks.
Staff. Melee Weapon Attack: +8 to hit, reach 5 ft., one target. Hit: 9 (1d8 + 5) bludgeoning damage.
Dagger. Melee or Ranged Weapon Attack: +5 to hit, reach 5 ft. or range 20/60 ft., one target. Hit: 5 (1d4 + 3) piercing damage.
Maddening Whispers (Recharge 5-6). Alberich whispers unsettling words, targeting one creature he can see within 60 feet of him. The target must make a DC 15 Wisdom saving throw or take 21 (6d6) psychic damage and become frightened for 1 minute. The frightened target can repeat the saving throw at the end of each of its turns, ending the effect on a success.
Curse of Andvari (Recharge 6). Alberich curses a creature within 60 feet that he can see. The target must succeed on a DC 16 Wisdom saving throw or be cursed with misfortune. The cursed creature has disadvantage on ability checks, saving throws, and attack rolls for 1 minute. The creature can repeat the saving throw at the end of each of its turns, ending the curse on a success.
Reactions
Uncanny Dodge. When an attacker that Alberich can see hits him with an attack, he can use his reaction to halve the attack's damage against him.
Legendary Actions
He can take 3 legendary actions, choosing from the options below. Only one legendary action option can be used at a time, and only at the end of another creature's turn. Alberich regains spent legendary actions at the start of his turn.
Staff Attack. Alberich makes one staff attack.
Maddening Whispers (Costs 2 Actions). He uses his Maddening Whispers ability.
Sly Feint (Costs 2 Actions). Alberich attempts to distract a creature within 5 feet of him, granting him advantage on his next attack roll against that creature.
Lair Actions
On initiative count 20 (losing initiative ties), Alberich can take a lair action to cause one of the following effects:
Fountain of Illusions. Alberich creates an illusory fountain within 60 feet of him. Creatures that start their turn within 15 feet of the fountain must succeed on a DC 16 Wisdom saving throw or be charmed and incapacitated by the enchanting sight.
Cursed Gold Veins. He causes veins of cursed gold to erupt from the ground. Each creature within 10 feet of a gold vein must make a DC 16 Dexterity saving throw or take 2d6 piercing damage as the sharp edges of the gold cut through their flesh.
Tarnhelm Illusion. Alberich uses his magical Tarnhelm to create illusions. He casts Major Image (DC 16) as a 4th-level spell.
Legendary Resistance (3/Day). If Alberich fails a saving throw, he can choose to succeed instead.
Curse of Andvari. Alberich curses a creature within 60 feet that he can see. The target must succeed on a DC 16 Wisdom saving throw or be cursed with misfortune. The cursed creature has disadvantage on ability checks, saving throws, and attack rolls for 1 minute. The creature can repeat the saving throw at the end of each of its turns, ending the curse on a success.
Equipment Alberich wears a set of dark, intricately designed armor and wields a staff with mysterious runes inscribed upon it. He carries a dagger concealed in his boot.
Plot Hooks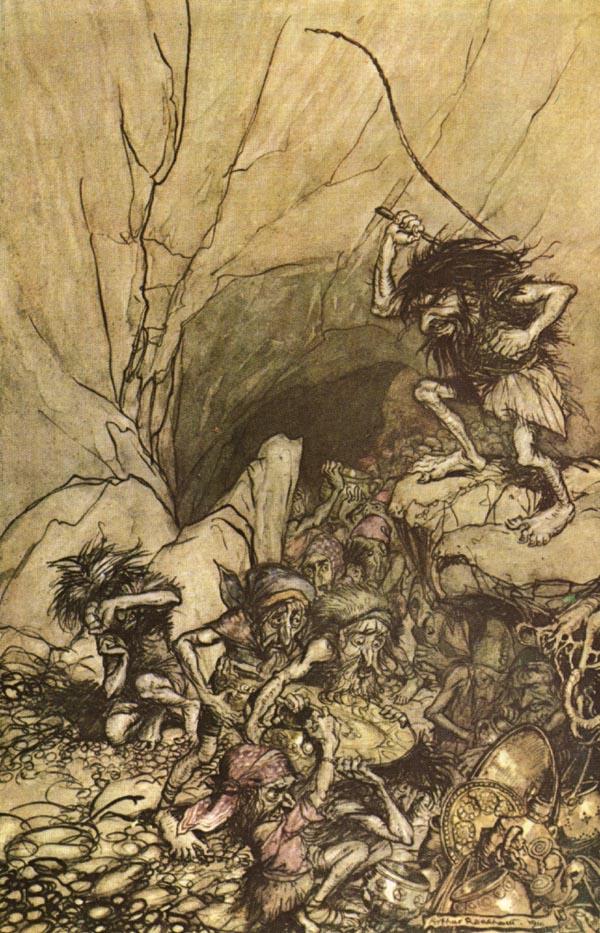 The Cursed Gold: Rumors have spread about Alberich's cursed gold, said to bring misfortune to anyone who possesses it. The players find themselves caught in a web of deceit and danger as they uncover the whereabouts of the gold and must decide whether to claim its riches or destroy it to break the curse.
A Pact of Illusions: Alberich approaches the players with an offer they can't refuse. He promises them a magical artifact of immense power in exchange for their assistance in retrieving a rare ingredient needed for his illusions. The players must weigh the consequences of working with a notorious villain and decide if the reward is worth the risk.
The Enchanted Waterfall: The players stumble upon a hidden entrance behind a mystical waterfall and discover Alberich's secret lair. Inside, they encounter traps, illusions, and puzzles designed to protect his treasures. They must navigate the treacherous chamber, avoiding Alberich's cunning tricks, to reach the heart of his domain.
The Tarnhelm's Betrayal: His magical Tarnhelm, a helm that grants the power of invisibility and shape-shifting, has developed a mind of its own. It begins to manipulate Alberich's actions, leading him to commit heinous acts against innocent people. The players become entangled in the conflict, trying to uncover the source of the Tarnhelm's corruption and restore Alberich's sanity.
The Avenger's Quest: A vengeful spirit seeks retribution against Alberich for past wrongdoings. The players are approached by the spirit, who offers them guidance and aid in their quest to defeat Alberich. They must delve into Alberich's dark history, gather allies, and prepare for a final confrontation that will determine the fate of both the spirit and Alberich.
The Lost Ring: Alberich's Andvaranaut ring, believed to possess immense power, has been stolen. The players are tasked with tracking down the thief and retrieving the ring. Along the way, they uncover a web of intrigue involving rival factions, ancient prophecies, and hidden truths about Alberich's true intentions.
The Dwarven Prophecy: A prophecy foretells that only a group of heroes can stop Alberich from unleashing chaos upon the world. The players find themselves thrust into the center of this prophecy, forced to confront their destinies and make difficult choices as they face Alberich's relentless pursuit.
The Siren's Call: He seeks to harness the power of the Siren's Call, a legendary artifact said to grant control over the minds of others. The players are drawn into a race against time as they race to locate the artifact before Alberich does, navigating treacherous waters, ancient ruins, and rival factions who also seek its power.
The Price of Greed: Alberich approaches the players with a tempting offer: a share of his vast wealth in exchange for their loyalty and assistance in his nefarious schemes. The players must grapple with the moral dilemma of aligning themselves with a villain, knowing that the cost of their greed may come at the expense of innocent lives.
The Dying Wish: Alberich's dying breath reveals a hidden secret that could change the course of history. The players are entrusted with this knowledge and must decide how to wield it. They become entangled in a web of political intrigue, divine intervention, and personal vendettas as they navigate the consequences of Alberich's final revelation.
Currently in the World
Alberich, a formidable dwarf, stands at a diminutive height, his sturdy frame hinting at the strength within. His weathered face bears the lines of age and wisdom, his piercing eyes glimmering with a mixture of cunning and caution. His dark beard, matted and unkempt, cascades down his chest, blending seamlessly with his worn garments. The weight of his past burdens is evident in his hunched posture, yet his movements are nimble and calculated.
Currently, he finds himself within the depths of his hidden abode, concealed beneath a majestic waterfall. The cave walls glisten with moisture, while the gentle roar of cascading water serves as a constant reminder of the power that surrounds him. The air is cool and damp, creating an atmosphere of secrecy and mystique.
Alberich's mood is one of guarded vigilance. Having endured the loss of his treasured possessions, including the fabled Andvaranaut ring, he remains ever watchful, wary of any potential threats to his newfound solitude. His eyes dart around the chamber, alert to any intrusion or disturbance. Yet, beneath the surface, a lingering sorrow tinges his thoughts, as he mourns the irretrievable loss of his once-great wealth.
In this present moment, Alberich occupies his time meticulously organizing the remnants of his treasure, sifting through golden trinkets and precious artifacts. With each item, he recalls the grandeur of his past and contemplates the possibilities of a future reclamation. As he handles each piece with reverence, a flicker of determination ignites within him, fueling his desire to restore his former wealth and guard it fiercely against those who would seek to possess it unlawfully.