John Wayne, The big guy with the battered hat… and Dean Martin, the ragged woman-wrecked castoff called Dude… and Ricky Nelson, the rockin' babyfaced gunfisted kid… AND TIME WAS RUNNING OUT THROUGH BULLET HOLES AT HOWARD HAWKS' "RIO BRAVO"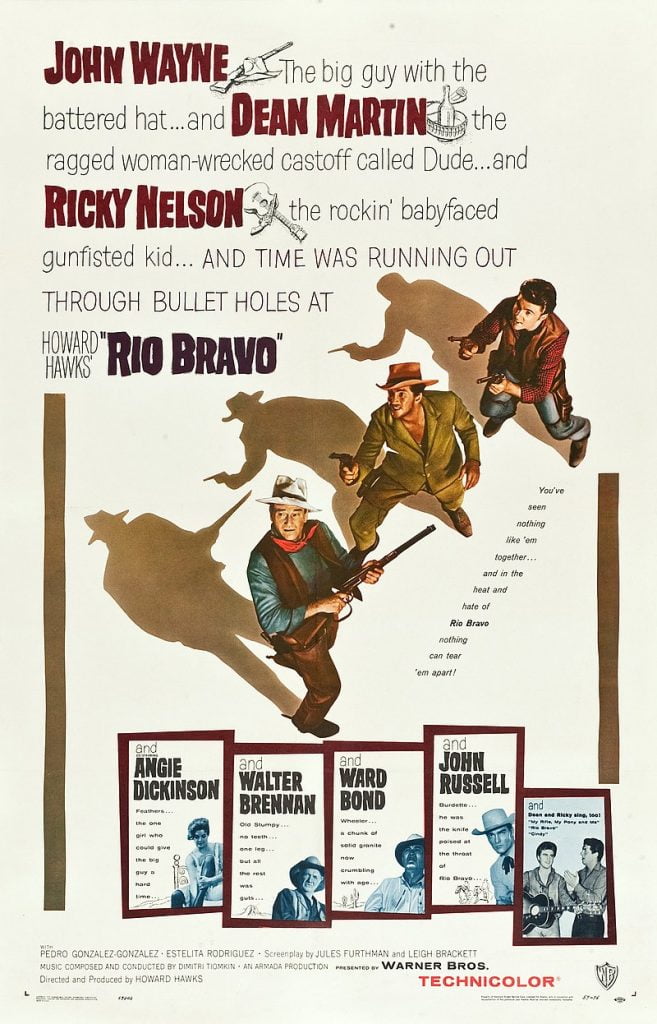 Rio Bravo is a 1959 American Western film produced and directed by Howard Hawks and starring John Wayne, Dean Martin, Ricky Nelson, Angie Dickinson, Walter Brennan, and Ward Bond.
Written by Jules Furthman and Leigh Brackett, based on the short story "Rio Bravo" by B. H. McCampbell, the film is about the sheriff of the town of Rio Bravo, Texas, who arrests the brother of a powerful local rancher to help his drunken deputy/friend. With the help of a "cripple" and a young gunfighter, they hold off the rancher's gang. Rio Bravo was filmed on location at Old Tucson Studios outside Tucson, Arizona, in Technicolor.
In 2014, Rio Bravo was deemed "culturally, historically, or aesthetically significant" by the Library of Congress and selected for preservation in the National Film Registry.