Travel back through time and space to the edge of man's beginnings… discover a savage world whose only law was lust!
One Million Years BC is a classic adventure film that was released in 1966. Directed by Don Chaffey, the film tells the story of a tribe of prehistoric humans who must navigate a harsh and unforgiving world in order to survive. The film is known for its stunning visuals, which showcase the incredible landscapes of the Canary Islands and the Isle of Wight.
One of the standout elements of One Million Years BC is the film's use of practical effects. The film was made before the advent of modern CGI, so the creatures and environments are brought to life using a combination of stop-motion animation and puppetry. While the effects may look dated by today's standards, they remain impressive and effective, creating a sense of wonder and awe that draws the viewer into the world of the film.
The performances in One Million Years BC are also strong, particularly that of Raquel Welch, who plays the film's heroine, Loana. Welch brings a sense of intelligence and determination to her role, making her a compelling and engaging protagonist. The supporting cast is also solid, with John Richardson delivering a strong performance as the film's male lead, Tumak.
At its core, One Million Years BC is a fun and exciting adventure film that will appeal to fans of the genre. While the film's portrayal of prehistoric life may not be entirely accurate, it offers a thrilling and entertaining look at a world that is both familiar and alien. With its sweeping vistas, thrilling action scenes, and memorable characters, One Million Years BC remains a classic of the adventure film genre.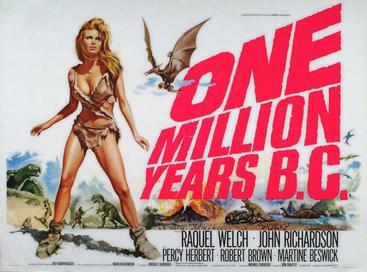 The cast of the movie "One Million Years B.C." (1966) includes:
Raquel Welch as Loana
John Richardson as Tumak
Percy Herbert as Sakana
Robert Brown as Akhoba
Martine Beswick as Nupondi
Jean Wladon as Tohana
Lisa Thomas as Sura
Malya Nappi as Ahot
Richard James as Ahot's Father
William Lyon Brown as Ahot's Brother
Frank Hayden as Ahot's Brother
Terence Maidment as Ahot's Brother
Micky De Rauch as Ahot's Brother
Dennis Blake as Ahot's Brother
Dido Plumb as Ahot's Brother
Suzanna Leigh as Nupondi's Mother
Jack Taylor as Sakana's Father
Yvonne Horner as Sura's Mother
Victoria Vetri (credited as Angela Dorian) as Nupondi's Friend
John Richardson as Narrator (uncredited)