Miraculously freed from eternal orbit, the three outlaws from Krypton descend to earth, for the ultimate confrontation.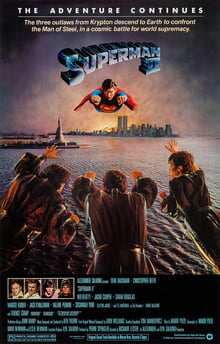 Superman II is a 1980 superhero film directed by Richard Lester and written by Mario Puzo and David and Leslie Newman, based on the DC Comics character Superman. It is a sequel to the 1978 film Superman and stars Gene Hackman, Christopher Reeve, Terence Stamp, Ned Beatty, Sarah Douglas, Margot Kidder, and Jack O'Halloran. The film was released in Australia and mainland Europe on December 4, 1980, and in other countries throughout 1981. Selected premiere engagements of Superman II were presented in Megasound, a high-impact surround sound system similar to Sensurround.
In 1977, it was decided to film both Superman (1978) and its sequel simultaneously, with principal photography beginning in March 1977 and ending in October 1978. Tensions arose between Richard Donner and the producers in which a decision was made to stop filming the sequel, of which 75 percent had already been completed, and finish the first film.
Following the release of Superman in December 1978, Donner was controversially fired as director, and was replaced by Richard Lester. Several members of the cast and crew declined to return in the wake of Donner's firing. In order to be officially credited as the director, Lester re-shot most of the film with a new alternate opening and ending for which principal photography began in September 1979 and ended in March 1980.
The film received positive reviews from film critics who praised the performances from Reeve, Stamp and Hackman, the visual effects, and humor. It grossed $190 million against a production budget of $54 million. A sequel, Superman III, was released, for which Lester returned as director.
---