Fight evil… With evil.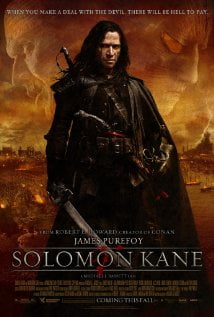 Solomon Kane is a 2009 French-British-Czech dark fantasy action–adventure film written and directed by Michael J. Bassett based on the pulp magazine character Solomon Kane created in 1928 by Robert E. Howard. James Purefoy stars in the title role. Despite optioning the rights in 1997, filming did not begin until January 2008.
The film is an original story for the Kane character and was intended to be the first of a trilogy. The plot follows a redemption story for Kane, from the end of his life as a privateer, through the salvation of his soul by rescuing a Puritan girl and the beginning of his life as the Puritan avenger of the source material.
It was produced by a consortium of French, Czech, and British companies and mostly filmed in the Czech Republic. The film was first shown at the 2009 Toronto International Film Festival. It went on general release in France, Spain, and the UK over the end of 2009 and the beginning of 2010. It has a Rotten Tomatoes "fresh" rating of 67%.
The screenplay was novelised by award-winning fantasy author Ramsey Campbell.