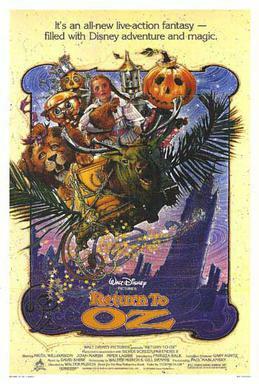 Return to Oz is a 1985 fantasy film directed and written by Walter Murch, co-written by Gill Dennis and produced by Paul Maslansky. It stars Nicol Williamson, Jean Marsh, Piper Laurie, and Fairuza Balk as Dorothy Gale in her first screen role. The film is an unofficial sequel to the 1939 Metro-Goldwyn-Mayer (MGM) film The Wizard of Oz, and is based on L. Frank Baum's Oz novels, mainly The Marvelous Land of Oz (1904) and Ozma of Oz (1907). In the plot, Dorothy returns to the Land of Oz to find it has been overthrown by the villainous Nome King, and must restore it with her new friends Tik-Tok, Jack Pumpkinhead, and Princess Ozma.
In 1954, Walt Disney Productions bought the film rights to Baum's remaining Oz books to use in the television series Disneyland; this led to the live-action film Rainbow Road to Oz, which was never completed. Murch suggested making another Oz film in 1980. Disney approved the project as they were due to lose the film rights to the series. Though MGM was not involved in the production, Disney had to pay a large fee to use the ruby slippers created for the MGM Wizard of Oz. Return to Oz fell behind schedule during production, and, following a change of Disney management, Murch was briefly fired from the project.
Return to Oz performed poorly at the box office, grossing 11.1 million dollars in the United States on a 28 million dollar budget, and received mixed reviews. However, it performed well outside the U.S and has since acquired a cult following. It received an Oscar nomination for Best Visual Effects.