Beyond our time, beyond our universe…there is a planet besieged by alien invaders, where a young king must rescue his love from the clutches of the Beast. Or risk the death of his world.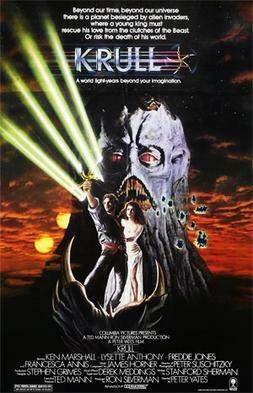 Krull is a 1983 British-American science fantasy swashbuckler film directed by Peter Yates and produced by Ron Silverman with a screenplay by Stanford Sherman. It follows a journey of Prince Colwyn and his group of outlaws on the planet Krull to save future queen Princess Lyssa from the Beast and his constantly teleporting Black Fortress.
The film began development in 1980, when Columbia Pictures president Frank Price gave Silverman the idea to produce a fantasy film, and was finally released in July 1983. Yates's directing on Krull differed from his previous films that were more realistic; he took the "challenge" of directing a motion picture like Krull since he could rely only on his imagination instead of doing research, and screenplays that encouraged experimentation with modern special effects were rare in the early 1980s.
The film stars an ensemble cast of Ken Marshall as Prince Colwyn, Lysette Anthony as Princess Lyssa, Trevor Martin as the voice of the Beast, Freddie Jones as Ynyr, Bernard Bresslaw as Rell the Cyclops, David Battley as Ergo the Magnificent, Tony Church and Bernard Archard as kings and the fathers of Colwyn and Lyssa, Alun Armstrong as the leader of a group of bandits that include early screen roles for actors Liam Neeson and Robbie Coltrane, John Welsh as The Emerald Seer, Graham McGrath as Titch, and Francesca Annis as The Widow of the Web.
Krull underwent a very expensive, harsh, and dangerous production process. The film's huge budget ballooned mainly due to the designers having to make numerous alterations to the sets corresponding to the heavily evolving script. The movie was shot at several sound stages at Pinewood Studios, and actors such as Marshall, Bresslaw and Jones performed dangerous stunts during filming. However, the film was a commercial failure upon release; and critical opinion has been mixed, both upon release and in retrospect. Numerous reviewers have highlighted its visual effects and soundtrack, while several critics have criticized its plot as being derivative and nonsensical. The film has gone on to achieve cult film status.