No mortal could possess it! No kingdom could command it!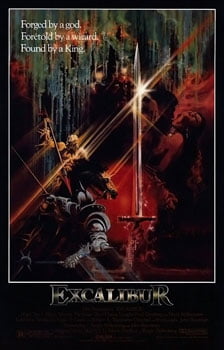 Merlin the magician helps Arthur Pendragon unite the Britons around the Round Table of Camelot, even as dark forces conspire to tear it apart.
Excalibur is a 1981 American epic historical fantasy film directed, produced, and co-written by John Boorman that retells the legend of King Arthur and the knights of the Round Table, based on the 15th-century Arthurian romance Le Morte d'Arthur by Thomas Malory. It stars Nigel Terry as Arthur, Nicol Williamson as Merlin, Nicholas Clay as Lancelot, Cherie Lunghi as Guinevere, Helen Mirren as Morgana, Liam Neeson as Gawain, Gabriel Byrne as Uther Pendragon, Corin Redgrave as Cornwall, and Patrick Stewart as Leondegrance. The film is named after the legendary sword of King Arthur that features prominently in Arthurian literature. The film's soundtrack features the music of Richard Wagner and Carl Orff, along with an original score by Trevor Jones.
Excalibur was shot entirely on location in Ireland, employing Irish actors and crew. It has been acknowledged for its importance to the Irish filmmaking industry and for helping launch the film and acting careers of a number of British and Irish actors, including Liam Neeson, Patrick Stewart, Gabriel Byrne and Ciarán Hinds.
Film critics Roger Ebert and Vincent Canby criticized the film's plot and characters, although they and other reviewers praised its visual style. Excalibur opened at number one in the United States, eventually grossing $34,967,437 on a budget of around US$11 million to rank 18th in that year's receipts.