Captain Jack is back.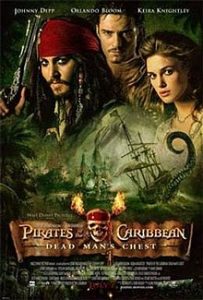 Pirates of the Caribbean: Dead Man's Chest is a 2006 American fantasy swashbuckler film, the second installment of the Pirates of the Caribbean film series and the sequel to Pirates of the Caribbean: The Curse of the Black Pearl (2003).
It was directed by Gore Verbinski, written by Ted Elliott and Terry Rossio, and produced by Jerry Bruckheimer. In the film, the wedding of Will Turner (Orlando Bloom) and Elizabeth Swann (Keira Knightley) is interrupted by Lord Cutler Beckett (Tom Hollander), who wants Turner to acquire the compass of Captain Jack Sparrow (Johnny Depp) in a bid to find the Dead Man's Chest. Sparrow discovers his debt to Davy Jones (Bill Nighy) is due.
Two sequels to Pirates of the Caribbean: The Curse of the Black Pearl were conceived in 2004, with Elliott and Rossio developing a story arc that would span both films. Filming took place from February to September 2005 in Palos Verdes, Saint Vincent and the Grenadines, Dominica, and The Bahamas, as well as on sets constructed at Walt Disney Studios. It was shot back-to-back with the third film of the series, At World's End.
Dead Man's Chest was released in the United States on July 7, 2006, and received positive reviews, with praise for its special effects and criticism for its plot and running time. The film set several records in its first three days, with an opening weekend of $136 million in the United States, and it was, at the time, the fastest film ever to gross over $1 billion in the worldwide box office.
It currently ranks as the 22nd highest-grossing film of all time worldwide and held the record as the highest-grossing film released by the Walt Disney Studios for nearly six years until it was surpassed by The Avengers (2012). The film received Academy Award nominations for Best Art Direction, Sound Editing, Sound Mixing, and won the Academy Award for Visual Effects. Its sequel At World's End was released the following year 2007.