Bartholomew Roberts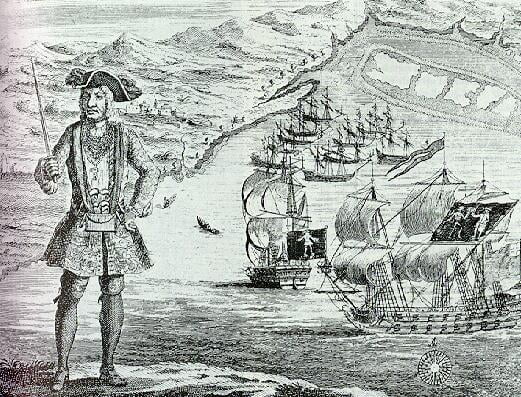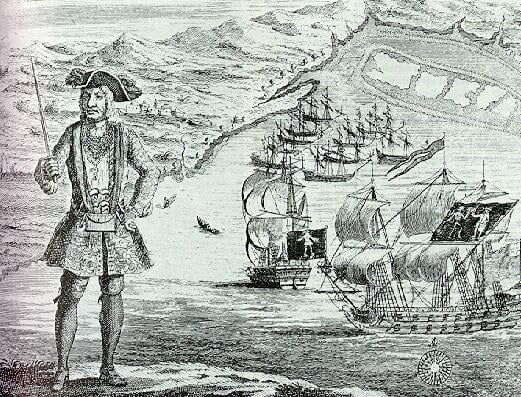 Bartholomew Roberts, also known as Black Bart, is a pirate captain of a succession of ships–the Royal Rover," "Fortune," "Royal Fortune," and "Good Fortune"- he has burned and plundered ships from the coasts of West Africa to the coasts of Brazil and the Caribbean and as far north as Newfoundland. Roberts took to piracy late, after the age of 37, but he quickly rose to captaincy. Roberts is the single most successful pirate of this age of piracy. His conquests have included more than 400 vessels and, in terms of sheer numbers, are rivalled only by the feats of Sir Henry Morgan.
He created the Articles of Piracy, upon which he made his crew swear when they signed on with him, and he enforces discipline as strictly as any naval officer. He drinks tea rather than rum, dresses in the finest clothes, and is considered bullet-proof by his crew.
Roberts himself makes a gallant figure, dressed in a rich crimson damask waistcoat and breeches, a red feather in his hat, a gold chain round his neck, with a diamond cross hanging to it, a sword in his hand, and two pairs of pistols slung over his shoulders
The Diamond Cross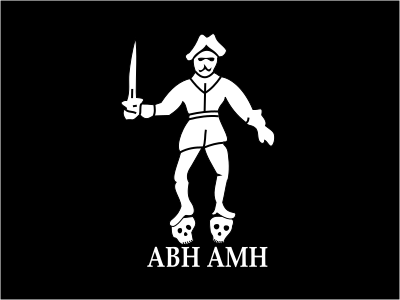 Orginally posted on D20 Pirates
Of the many treasures sent from the new world back to the powers that be in Spain, perhaps none was more spectacular than a diamond-studded cross intended for the Pope. It was crafted by a jeweler in New Spain, using gold and diamonds taken from the mine there, and sent aboard a ship bound for Europe. That galleon never made it there, however; instead it was intercepted by pirates. As the many treasures aboard it were disbursed, the cross ended up in the possession of Bartholomew Roberts. Who wears it as a symbol of his influence and command.
In game terms, the diamond cross gives its wearer a +5 enhancement bonus to all Charisma-related skill checks, attempts to turn undead and Sway efforts.
Name Bartholomew Roberts
Human CR 15
XP 51200
Any Medium humanoid

Expert level 14 (skill points 112) Sea Captain, Rogue level 9 (skill points90) Rogue (Pirate)

Init +1; Senses ; Perception +29
DEFENSE
AC 13, Touch 12, flat footed 11 ( Quilted Cloth, Shield, none)(+1 Dexterity, +1 armour, +1 feats)

hp 94 (0d8+14d8+9d8+-23+14);

Fort +6, Ref +11, Will +11
OFFENSE
Speed 35

Melee Single Attack(+1/+0) Rapier +19 (1d6/15-20) or (+1/+0) Pistol, double-barreled +19 (1d8 X4) +1 to hit and +1 damage if within 30ft

Full Attack (+1/+0) Rapier +19/14/9/4 (1d6/15-20) or (+1/+0) Pistol, double-barreled +19 (1d8 X4) range 20 +1 to hit and +1 damage if within 30ft

Space 5ft.; Reach 5

Special Attacks Sneak Attack Sneak attack at an extra (D6) 5
STATISTICS
Strength 11, Dexterity 13, Constitution 9, Intelligence 12, Wisdom 8, Charisma 17

Base Attack 16 CMB 16 ; CMD 28

Feats Bleeding Attack, Fast Stealth, Rogue Crawl, Stand up, Alertness, Armour Prof Light, Dodge, Evasion, Fleet, Improved Critical, Martial Weap Prof, Mobility, Point Blank Shot, Precise Shot, Sea Legs, Simple Weapon Proficiency, Skill Focus (Intimidate), Skill Focus (Stealth), Weapon Finesse, Weapon Focus, Weapon Focus(Ranged);

Skills Acrobatics 31, Appraise 12, Bluff 13, Climb 30, Craft Wood Working12, Diplomacy 3, Disable Device 6, Disguise 8, Escape Artist 1, Intimidate 35, Know Dungeon 1, Know Geography 9, Know Local 11, Linguistics 6, Perception 29, Profession Sailor 25, Sense Motive 11, Sleight of Hand 6, Stealth 33, Swim 12, Use Magic Device 13 Languages Common
SPECIAL ABILITIES
Evasion Reflex save no damage instead of 1/2 Improved Uncanny Dodge Can no longer be flanked Reduce Class Feats reduce by 1

Sea Legs (Ex) Gains feat

Swinging Reposition (Ex) In light armor on ship can reposition. After making a charge or bull rush, can move 5 ft Uncanny Dodge Retains Dexterity bonus if flat footed

Unflinching (Ex) saving throws against fear and mind-affecting effects bonus= 3
ECOLOGY
Environment Any

Organization Company 10-20, Band 30-100, Squad 4-8

Treasure Standard
MAGICITEMS (max value 45000)
Masterwork Rapier (300gp), Masterwork Pistol, double-barreled (300gp) Total Value = 600