Parandrus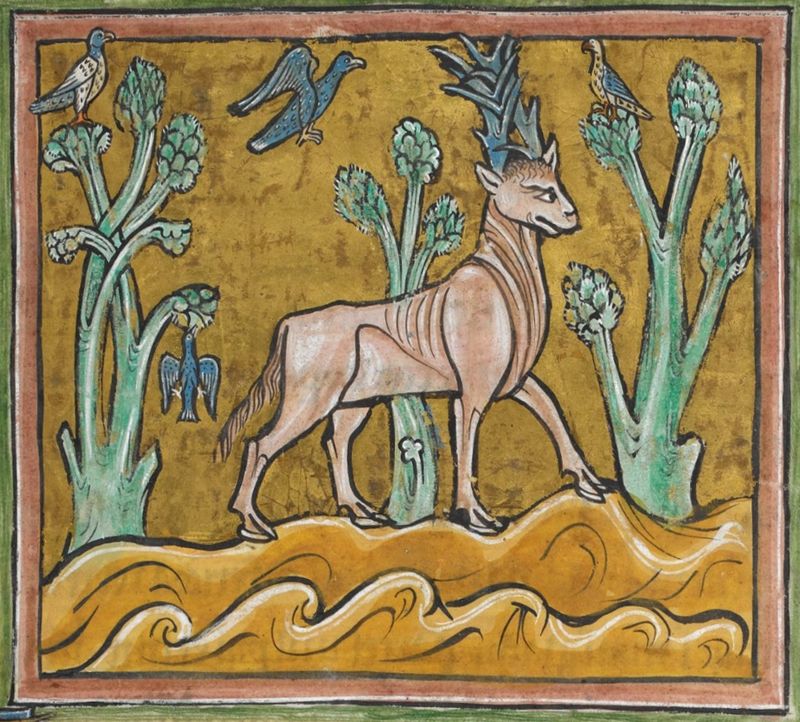 What appears to be a deer the size of an ox stands before you. A long tail twitches behind it, and it is covered in long, glossy, black fur.
Used with Permission from Raymond_Luxury_Yacht of the Wizards Community forums.
The parandrus is a shy and reclusive animal that uses its natural ability to change its fur color to blend in with its surroundings.

The creatures are about 7 feet long, and weigh about 600 pounds. The long, branching antlers that crown their head can reach lengths of up to 3 feet.
Exclusively herbivorous, the parandrus dines mostly on mosses and lichen, although fungi and conifer leaves make up a small, albeit significant, part of their diet.
Parandrus
Large magical beast
Hit Dice
6d10+12 (45 hp)
Initiative
+2
Speed
40 ft.
Armor Class
15 (-1 size, +2 Dexterity, +4 natural), touch 11, flat-footed 13
Base Attack/Grapple
+6/+14
Attack
Gore +9 melee (1d8+6)
Full Attack
Gore +9 melee (1d8+6)
Space/Reach
10 ft./5 ft.
Special Attacks
–
Special Qualities
Chameleon, Darkvision 60 ft., Low-Light Vision
Saves
Fort +7, Ref +7, Will +2
Abilities
Strength 18, Dexterity 15, Constitution 15, Intelligence 3, Wisdom 11, Charisma 9
Skills
Hide +24, Listen +6, Move Silently +4, Spot +2
Feats
Alertness, Run, Stealthy
Environment
Cold forests and mountains
Organization
Solitary
Challenge Rating
3
Treasure
None
Alignment
Always neutral
Advancement
(Huge) 7-12 HD (Large); 13-18 HD
Level Adjustment
–
Combat
A parandrus is more likely to run and hide than fight, but will lash out viciously with its antlers if cornered.
Chameleon (Ex) A parandrus is capable of changing its fur color in a matter of seconds. This ability gives it a +15 bonus on Hide checks.
Skills The keen senses of a parandrus grant it a +4 racial bonus on Listen checks.