Kelpie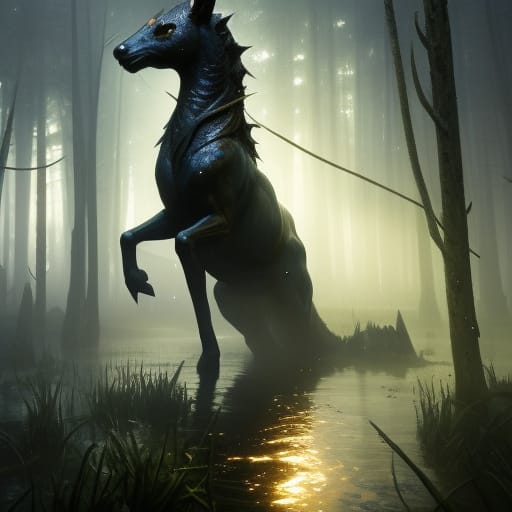 This hideous humanoid creature has slimy, transparent skin; webbed, humanoid hands; and a snaggle-toothed, horse-like face.
A kelpie is a deadly shapechanging predator that, in its natural form, appears as a hideous combination of emaciated horse and sickly humanoid, with slimy, transparent skin and long, stringy hair. Its face is long and equine, with a mouth filled with jagged teeth.
Few, however, ever see a kelpie in its true form, for kelpies almost always encounter other creatures while in disguise as a humanoid, horse, or hippocampus, reverting to their true form only after their targets have drowned so that they can feast on their victims, leaving behind only the heart and liver (as both of these organs are distasteful to most kelpies).
Kelpies can be found in saltwater and freshwater environments, including fens, rivers, swamps, and underground pools and lakes. Communities living near kelpie lairs believe that folk who die on the water or are killed by a kelpie become kelpies themselves. Kelpies may serve as steeds for aquatic fey or other water monsters while in their hippocampus forms, sometimes without their riders ever knowing the truth of the steed's sinister nature.
A typical kelpie is 6 feet tall and weighs 170 pounds.
---
Kelpie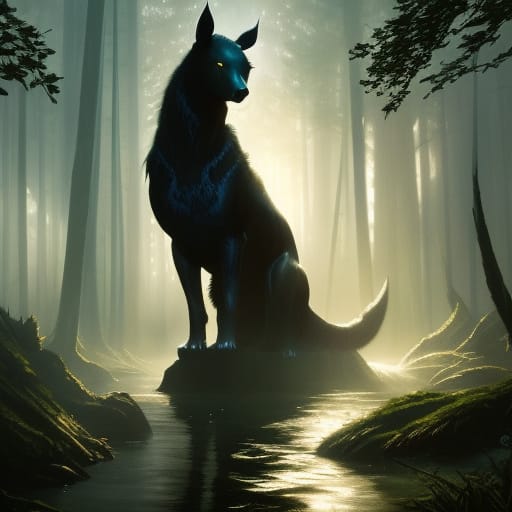 Large fey, chaotic evil
Armor Class 16 (natural armor)
Hit Points 745 (l9dl0+ 38)
Speed 40 ft., swim 40 ft.
| STR | DEX | CON | INT | WIS | CHA |
| --- | --- | --- | --- | --- | --- |
| 18 (+4) | 14 (+2) | 14 (+2) | 15 (+2) | 14 (+2) | 11 (+0) |
Skills Perception +6
Senses darkvision 60 ft., passive Perception 16
Languages understands Common and Sylvan but can't speak it.
Challenge 5 (1,800 XP)
AD
SPECIAL TRAITS
Amphibious. The kelpie can breathe air and water.
Horse Form. The kelpie can transform into its horse form or its true form as a bonus action. Its statistics and abilities remain the same in each form. It reverts to its true form if it is killed.
Grappler. The kelpie has advantage on attack rolls against any creature that is grappled by it.
Sticky Body. Anyone that touches the kelpie becomes stuck to its body. A medium or smaller creature adhered to the kelpie is also grappled by it (escape DC 16). Ability checks made to escape this grapple have disadvantage. The kelpie's body can magically stretch to accommodate up to three medium creatures being stuck to it. The kelpie's movement is not impeded by having creatures stuck to it.
ACTIONS
Multiattack. The kelpie makes two attacks: one with its Bite and one with its Hooves.
Bite. Melee Weapon Attack: +7 to hit, reach 5ft, one target. Hit: 9 (7 dl 0 + 4) piercing damage.
Hooves. Melee Weapon Attack: +7 to hit, reach 5ft, one target. Hit: 13 (2d8 + 4) bludgeoning damage.
Kelpie Call. The kelpie targets up to three humanoids that it can see within 30 feet. If the chosen targets can see the kelpie, they must succeed on a DC 16 Wisdom saving throw or be compelled to approach and pet the kelpie. A target automatically succeeds on this saving throw if they are immune to being charmed.
ABOUT
Kelpies are cunning, ravenous creatures who make their homes in still water pools and ponds in forests and swamps around the continent. Although they will enthusiastically devour anyone that they can lure to their lairs, they prefer to feast on the flesh of children.
While on land, Kelpies appear as beautiful, well-bred black horses. But while they're in the water, they take on their true and monstrous form – a vaguely equine creature with bulging wild eyes, slick mottled skin, and a maw filled with jagged teeth.
On their home plane, Kelpies can be found anywhere that evil fey have dominion. On the Prime Material, Kelpies are drawn to bodies of fresh water that were the site of tragedies – especially those involving children. Once a Kelpie claims its home, its presence destroys all fish and creatures living there but causes reeds, kelp, and other water plants to become thick and overgrown. These areas would be hazardous enough on their own, but the Kelpie's malevolent presence increases the danger exponentially.
Kelpies are clever and patient predators. When they sense the presence of approaching people, they climb from their holes and take the form of a horse feeding by the water's edge.
Those that see them are unnaturally drawn to them, and once they touch the Kelpie's skin, they're ensnared by the viscous, tar-like mucus that covers their bodies. The Kelpie then drags their prey into the deep waters of their home and ravages them.
On occasion, a Kelpie may not have time to emerge from the water before unwary travelers are upon them. At that point, the Kelpie has another nefarious trick that it uses to trap potential meals. It swims into an area where it can be masked by overgrowth and sticks its head above the water, magically mimicking the cries of its last victim. Once the would-be rescuers wade into the waters of the Kelpie's pond, they're slowed by the thick tangles of weeds that blanket the creature's den and are quickly captured.
Normally, Kelpies spend their time chasing their own hunger and cruelty, but in some circumstances, they are called to guard the forests and territories of powerful hags or blighted druids. From their pools on the perimeters of these enclaves, Kelpies watch for trespassers, feeding on who they can and capturing those that would be of interest to their masters.
Section 15: Copyright Notice
Monsters Mythica: Kelpie Copyright 2019, Underground Oracle Publishing; authors Jess Pendley and Keith Pendley
Kelpie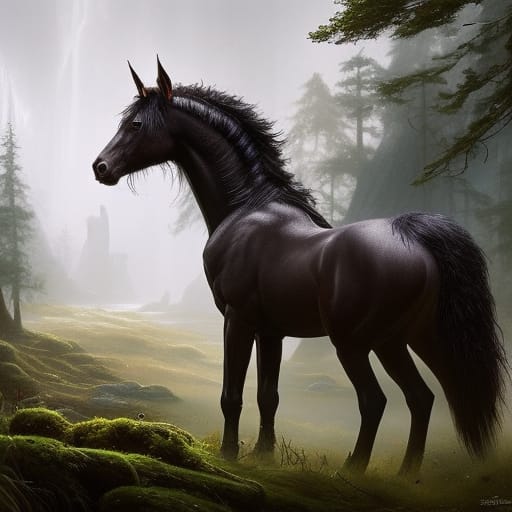 Medium fey, chaotic evil
Armor Class 14 (natural armor)
Hit Points 27 (5d8 + 5)
Speed 30 ft., swim 40 ft.
| STR | DEX | CON | INT | WIS | CHA |
| --- | --- | --- | --- | --- | --- |
| 16 (+3) | 15 (+2) | 12 (+1) | 13 (+1) | 16 (+3) | 12 (+1) |
Skills Perception +5
Damage Resistances cold, poison
Senses darkvision 60 ft., passive Perception 15
Languages Common, Sylvan
Challenge 2 (450 XP)
SPECIAL TRAITS
Amphibious. The kelpie can breathe air or water.
Magic Resistance. The kelpie has advantage on saving throws against spells and other magical effects.
Mounting Challenges. The kelpie can be tamed briefly. A humanoid must make a successful DC 15 Animal Handling check. If successful, the humanoid can command the kelpie for 1 minute. However, the fey will not take any action that would harm itself.
Shapechange. The kelpie can use a bonus action to polymorph into a Large riding horse or back into its true humanoid form. Its statistics, other than its size, are the same in either from. Any equipment it is wearing or carrying isn't transformed. It reverts back to its humanoid form if it dies.
Slippery. The kelpie has advantage on ability checks and saving throws made to escape a grapple.
ACTIONS
Bite. Melee Weapon Attack: +5 to hit, reach 5 ft., one target. Hit: 7 (1d8 + 3) piercing damage.
Hooves (Horse Form). Melee Weapon Attack: +5 to hit, reach 5 ft., one target. Hit: 7 (1d8 + 3) bludgeoning damage.
Drown. The kelpie can choose to grapple (escape DC 13) a target they hit with a bite attack and drag it underwater.
ABOUT
One of the most unusual creatures to encounter in a lake or river is the kelpie. This dark horse appears harmless at first glance. However, the nasty fey will attempt to drown anyone who gets close. Its true form is a fey humanoid that appears quite human.
Soaked to the Bone. When in horse form it always appears wet. In addition, the humanoid form of the kelpie has smooth, wet, and cold skin. These are clues that point to the creature's true nature.
Bridled Rage. Some humanoids will attempt to ride these fey. This is a challenging task and can result in the rider being drowned. If a kelpie is successfully tamed, it only lasts for a brief period of time.
Water Horses. Horses born from the mating of kelpies and horses can breathe underwater.
Section 15: Copyright Notice
Monsters of the Wilderness: A Collection of Monsters for 5th Edition Copyright 2022 Cawood Publishing Author Andrew Cawood
Kelpie CR 4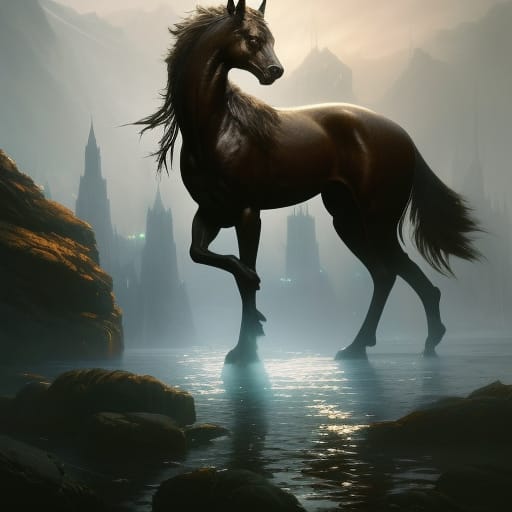 XP 1,200
NE Medium fey (aquatic, shapechanger)
Init +7; Senses low-light vision; Perception +13
DEFENSE
AC 17, touch 13, flat-footed 14 (+3 Dex, +4 natural)
hp 38 (7d6+14)
Fort +4, Ref +8, Will +6
Resist fire 10
OFFENSE
Speed 40 ft., swim 40 ft.
Melee 2 slams +6 (1d6+2 plus grab)
Special Attacks captivating lure
STATISTICS
Str 15, Dex 16, Con 15, Int 8, Wis 12, Cha 17
Base Atk +3; CMB +5 (+9 grapple); CMD 18
Feats Alertness, Deceitful, Improved Initiative, Weapon Finesse
Skills Bluff +15, Disguise +15, Perception +13, Sense Motive +13, Stealth+13, Swim +10
Languages Aquan, Common, Sylvan; telepathy (1 mile, previously touched creatures only)
SQ amphibious, change shape (hippocampus or horse, beast shape IV; Small or Medium humanoid, alter self )
SPECIAL ABILITIES
Captivating Lure (Su)
Once per day, a kelpie can use a powerful mental attack to lure in a single creature within 60 feet. The target must make a DC 16 Will saving throw or become captivated by the kelpie, thinking it is a desirable woman in mortal danger or (if in hippocampus or horse form) a valuable steed. A victim under the effects of the captivating lure moves toward the kelpie using the most direct means available.
If the path leads it into a dangerous area such as through fire or off a cliff, that creature receives a second saving throw to end the effect before moving into peril; the victim does not consider water a dangerous area, and will enter the water even if it cannot swim or breathe. A captivated creature can take no actions other than to move toward the kelpie and defend itself, even if it is drowning.
A victim within 5 feet of the kelpie simply stands and offers no resistance to its attacks. This effect continues as long as the kelpie is alive and the victim is within 1 mile of the kelpie. This is a mind-affecting charm effect. The save DC is Charisma-based.
ECOLOGY
Environment any water
Organization solitary or shoal (2–5)
Treasure standard
Section 15: Copyright Notice
Pathfinder Roleplaying Game Bestiary 2, © 2010, Paizo Publishing, LLC; Authors Wolfgang Baur, Jason Bulmahn, Adam Daigle, Graeme Davis, Crystal Frasier, Joshua J. Frost, Tim Hitchcock, Brandon Hodge, James Jacobs, Steve Kenson, Hal MacLean, Martin Mason, Rob McCreary, Erik Mona, Jason Nelson, Patrick Renie, Sean K Reynolds, F. Wesley Schneider, Owen K.C. Stephens, James L. Sutter, Russ Taylor, and Greg A. Vaughan, based on material by Jonathan Tweet, Monte Cook, and Skip Williams.
History and mythology
Kelpie is a supernatural shape-shifting water horse that haunts the rivers and lochs of Scotland and Ireland. It also appears in Scandinavia where it in Sweden is known by the name Bäckahästen, the brook horse. In Norway it is called nøkken, where the horse shape is often used, but is not its true form.
A kelpie would lure people onto its back and then dive into a deep lake to magically vanish. A kelpie's bridle could work magic if stolen; onversely, a human bridle on a kelpie could compel it to work for a human.
In Scandinavia, the brook horse was a transformation of the Nix, a water spirit in the shape of a man. It was often described as a majestic white horse that would appear near rivers, particularly during foggy weather. Anyone who Climbed onto its back would not be able to get off again. The horse would then Jump into the river, drowning the rider.
The brook horse could also be harnessed and made to plough, either because it was trying to trick a person or because the person had tricked the horse into it. The kelpie sometimes appeared as a rough hairy man who would grip and crush travellers, but it most commonly took the form of a beautiful tame horse standing by a stream or river.
If anyone mounted it, it would charge into the deepest part of the water, submerging and taking the rider with it. They would sometimes interbreed with humans' horses, and the foals were said to be fine fleetfooted horses. The kelpie was also said to warn of forthcoming storms by wailing and howling. Rarely, kelpies could be benign.
Kelpie Legends
The following tale is a good illustration of the brook horse:
A long time ago, there was a girl who was not only pretty but also big and strong. She worked as a maid on a farm by Lake Hjärtasjön in southern Nerike. She was ploughing with the farm's horse on one of the fields by the lake. It was springtime and beautiful weather. The birds chirped and the wagtails flitted in the tracks of the girl and the horse in order to pick worms. All of a sudden, a horse appeared out of the lake. It was big and beautiful, bright in color and with large spots on the sides.
The horse had a beautiful mane which fluttered in the wind and a tail that trailed on the ground. The horse pranced for the girl to show her how beautiful he was. The girl, however, knew that it was the brook horse and ignored it. Then the brook horse came closer and closer and finally he was so close that he could bite the farm horse in the mane.
The girl hit the brook horse with the bridle and cried: "Disappear you scoundrel, or you'll have to plough so you'll never forget it." As soon as she had said this, the brook horse had changed places with the farm horse, and the brook horse started ploughing the field with such speed that soil and stones whirled in its wake, and the girl hung like a mitten from the plough.
Faster than the cock crows seven times, the ploughing was finished and the brook horse headed for the lake, dragging both the plough and the girl. But the girl had a piece of steel in her pocket, and she made the sign of the cross. Immediately she fell down on the ground, and she saw the brook horse disappear into the lake with the plough. She heard a frustrated neighing when the brook horse understood that his trick had failed. Until this day, a deep track can be seen in the field. (Hellström 1985:16)