Ekaltadeta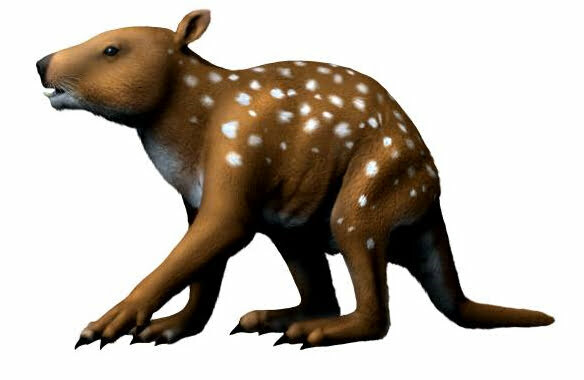 Ekaltadeta is a species of kangaroo that, unlike its cousins, is a predator.
Originally Posted by Raptorial of the Wizards Community forums.
The Ekaltadeta is a giant, meat-eating rat- kangaroo 
It hunts snakes, lizards, small mammals, and even dromornis chicks (when the parent isn't looking). Its pelt is tan with black stripes down its neck and back. Ekaltadeta are less social than their cousins.
Ekaltadeta
Medium animal
Hit Dice
1d8+6 (10 hp)
Initiative
+3 (+3 Dexterity)
Speed
35 ft. (7 squares)
Armor Class
14 (+3 Dexterity, +1 natural), touch 13, flat-footed 11
Base Attack/Grapple
0/+5
Attack
Bite +5 melee (1d4 +5)
Full Attack
Bite +5 melee (1d4 +5) and kick +0 melee (1d6 +2)
Space/Reach
5 ft./5 ft.
Special Attacks
Pounce
Special Qualities
Low-Light Vision
Saves
Fort +8, Ref +5, Will +0
Abilities
Strength 20, Dexterity 16, Constitution 23, Intelligence 2, Wisdom 11, Charisma 6
Skills
Jump +6, Listen 0, Move Silently +4, Spot +2
Feats
Run
Environment
Warm jungles
Organization
Solitary, or Gang (2-5)
Challenge Rating
1
Treasure
None
Alignment
Always neutral
Advancement
2 HD (Medium); 3 HD (Large)
Level Adjustment
–
Combat
Ekaltadeta relies on its jaws and (to a lesser extent) legs during combat
Pounce (Ex) When an ekaltadeta makes a charge, it can follow with a full attack.