(Dinosaur) Prenocephale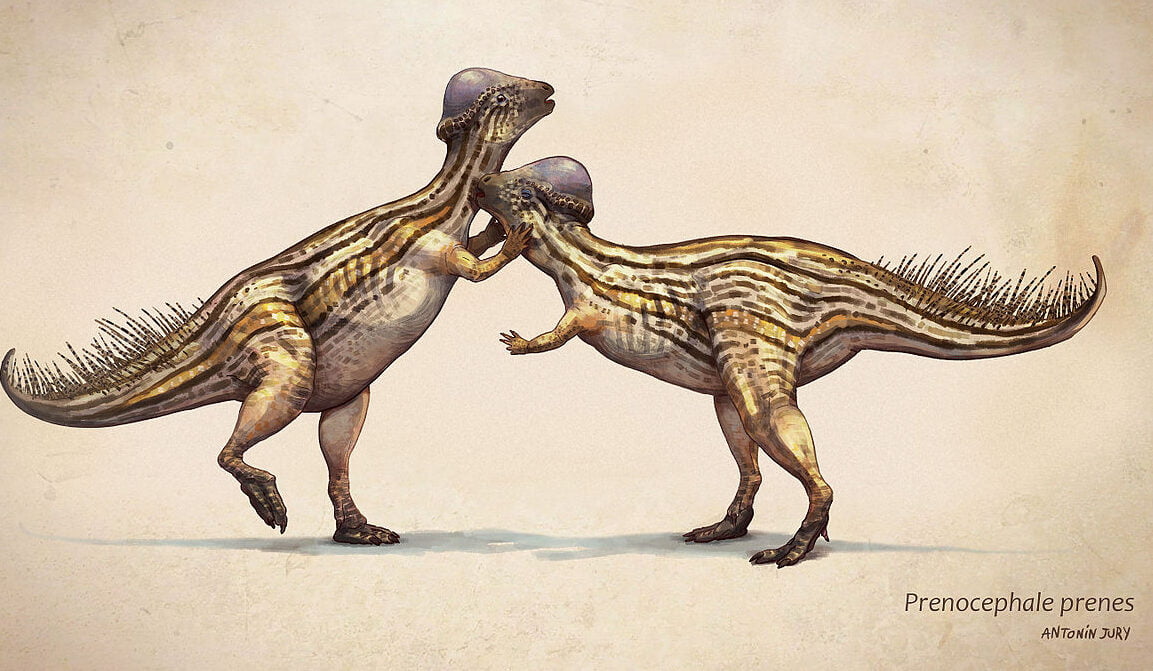 Prenocephales stand approximately four feet tall, measure eight feet long, and weigh about three-hundred pounds.
Originally Posted by Insane Pixie of the Wizards Community forums.
On this Thread
Prenocephale (meaning "sloping head") was a small pachycephalosauriddinosaurgenus from the Late Cretaceous (Maastrichtian) of Mongolia and was similar in many ways to its close relative, Homalocephale, which may simply represent Prenocephale juveniles.
Prenocephale
Medium animal
Hit Dice
2d8+3 (10 hp)
Initiative
+2
Speed
50 ft. (10 squares)
Armor Class
16 (+2 Dexterity, +4 natural), touch 12, flat-footed 14
Base Attack/Grapple
+1/+5
Attack
Headbutt +3 melee (1d10+4)
Full Attack
Headbutt +3 melee (1d10+4)
Space/Reach
5 ft./5 ft.
Special Attacks
–
Special Qualities
Low-Light Vision, Scent
Saves
Fort +5, Ref +5, Will +1
Abilities
Strength 17, Dexterity 14, Constitution 17, Intelligence 2, Wisdom 12, Charisma 10
Skills
Listen +6, Spot +5
Feats
Run
Climate/Terrain
Temperate plains
Organization
Solitary, pair, or pack (3-6)
Challenge Rating
2
Treasure
None
Alignment
Always neutral
Advancement
2-6 HD (Medium)
Level Adjustment
–
Combat
Prenocephales are highly territorial, and will attempt to butt off any creature that encroaches onto its land or mate.
Skills A prenocephale gains a +2 racial bonus on Listen and Spot checks.