Dinosaur, Daspletosaurus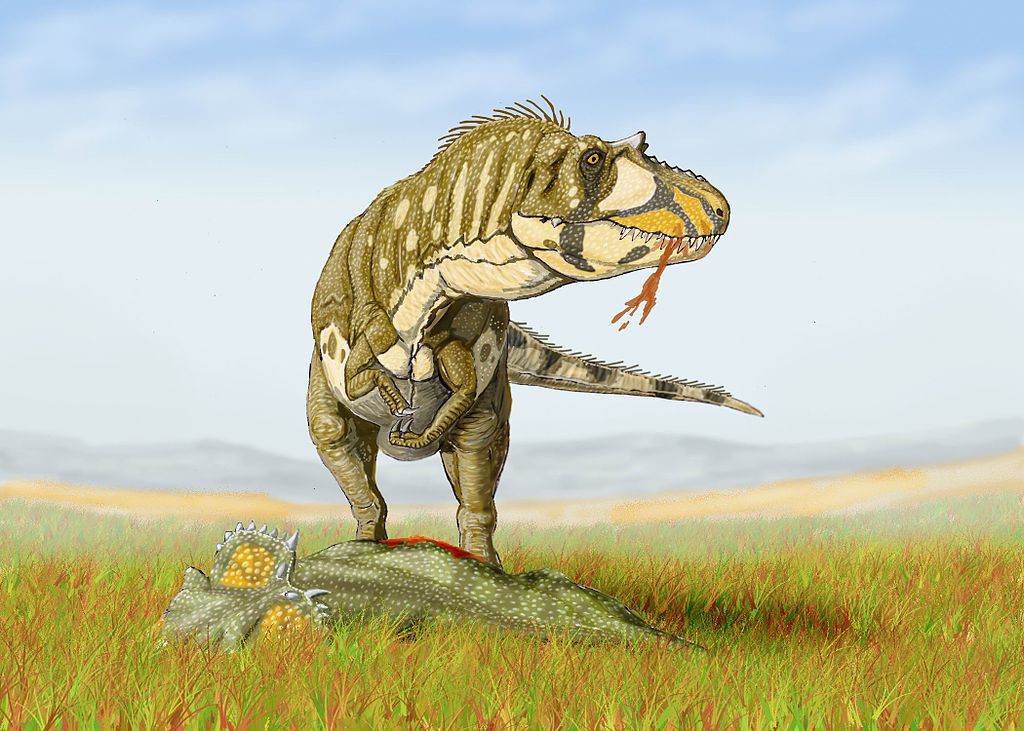 These are tyrannosaurids smaller than the well-known Tyrannosaurus.
Originally Posted by Nilbog of the Wizards Community forums.
Daspletosaurs are a dark green with bright lime-green stripes. In breeding season, the males develop a small crest of violet feathers.
A daspletosaurus is about 9 feet tall and 28 feet long, weighing about 5,500 pounds. Its arms and hands are small, but it has very powerful jaws.
Daspletosaurus
Huge animal
Hit Dice
12d8+98 (138 hp)
Initiative
+3
Speed
40 ft. (8 squares)
Armor Class
17 (-2 size, +3 Dexterity, +6 natural), touch 11, flat-footed 14
Base Attack/Grapple
+9/+23
Attack
Bite +14 melee (2d10+9)
Full Attack
Bite +14 melee (2d10+9)
Space/Reach
15 ft./10 ft.
Special Attacks
–
Special Qualities
Low-Light Vision, Scent
Saves
Fort +16, Ref+12, Will +5
Abilities
Strength 23, Dexterity 16, Constitution 23, Intelligence 2, Wisdom 13, Charisma 11
Skills
Listen +8, Spot +8, Survival +6
Feats
Alertness, Power Attack, Run, Track, Weapon Focus (bite)
Environment
Any warm land
Organization
Solitary or pack (2-5)
Challenge Rating
7
Treasure
None
Alignment
Always neutral
Advancement
11-20 HD (Large)
Level Adjustment
—